Burst Pipes: Most Common Causes and How to Fix Them!
February 16, 2022
A burst pipe is one of the most dramatic plumbing problems homeowners have to deal with. A pipe suddenly explodes, water spurts everywhere, and all your appliances, furniture, and foundations are at risk!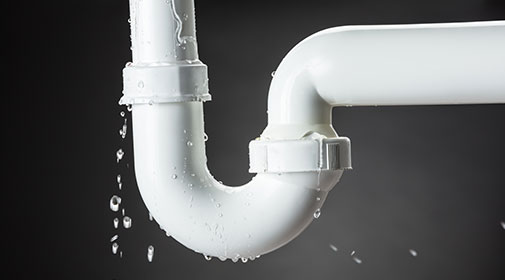 If you're dealing with this situation right now, the first thing to do is turn off the water and the second thing to do is call a plumber in Melbourne for burst pipe repairs.
However, you might have a burst pipe without even knowing it (at first). They can simmer away behind walls, within roofs, or underground, but make no mistake, the damage they cause can still be devastating.
In this article, we're going to outline the most common burst pipe causes, the different types of burst pipes, how to find a hidden burst pipe, and what you should do next!  If you need help with blocked drains in Melbourne give us a call.
Types of Burst Pipes
In Australia, most pipes are made either from copper or PVC. Both of these materials are quality options for dealing with high-pressure, water-filled environments. However, even the best pipes can burst under the wrong conditions.
Here are some of the most common types of burst pipes:
Underground burst pipes

Burst pipes behind the wall cavity

Burst pipes in the roof

Underfloor burst pipes
As well as this, you could be dealing with burst water pipes or burst sewer pipes. While both kinds of burst pipes can be devastating, burst sewer pipes come with additional health hazards as they could expose you to sewerage water.
What Causes Burst Pipes?
Why do pipes burst anyway? People often cite freezing as a common cause of burst pipes, but in Australia's relatively warm winters, this isn't really a problem. 
At MCN Plumbing, we are a team of plumbers serving Heidelberg, Reservoir, Chirnside Park, and everywhere in between. In all our years, here are some of the most common causes of burst pipes that we have seen:
Weakened Pipes:

Over time, wear and tear will take a toll on your pipes. If your pipes are old or corroded, water is more likely to burst out of them. 

Mineral deposits:

The water we drink contains varying quantities of minerals such as magnesium and calcium. These minerals can also build up along the inside of our pipes, slowing the flow of water and speeding up corrosion, which can contribute to a burst pipe. Water is considered "hard" when it has a high amount of excess minerals, and "soft" when it has a lower amount. Fortunately, Victoria has some of the softest water in Australia, which helps maintain our pipes for longer!

High water pressure:

If you hear a banging in your pipes, you probably have excessively high water pressure and a burst pipe waiting to happen. High water pressure is usually caused by your supplier, and pressure limiting/reducing valves may be able to help.

Renovation and excavation mistakes:

If you strike a pipe with a shovel when you're working in the house or yard, you could create a burst pipe by sheer force.

Blocked drains:

A build-up of debris, improperly disposed items (such as wet wipes), or objects that are dropped down the sink can lead to

blocked drains

, cracked pipes, and eventual burst pipes.

Invasive tree roots:

The roots of your trees will spread underground looking for water. If they find the smallest entry point in your pipes, they can enter, cause plenty of damage, and create a burst pipe!

Installation and workmanship issues:

If your plumbing was installed using the wrong parts, the wrong tools, or the wrong methods, you will be more at risk of burst pipes! Improper pipe connections are one of the main culprits. If installed incorrectly, these connection points will burst and break, even when they should be able to handle much more water pressure.
How to Identify a Hidden Burst Pipe!
If you have an obvious burst pipe, you won't have to look hard to find it! However, many burst pipes start as small leaks or they start bursting behind a wall or under the floor.
Finding these hidden leaks and bursts quickly will prevent expensive and destructive outcomes, so it's important to keep your eyes peeled. Here are a few things to look for:
Look for ceiling or wall stains

Keep an eye out for significant drops in water pressure

Turn on your taps and see if your water has changed colour, taste, or smell

Check your water bills for a sudden spike

Look for a build-up of water underneath your sinks

Listen for water hammer (banging noises in your pipes)
How Long Does It Take to Repair a Burst Pipe?
Depending on the nature of your burst pipe, it could be fixed in a matter of minutes. Unfortunately, complications could see the repair time blow out to several hours.
Factors that could slow down burst pipe repair time include the size and location of your pipes, the severity of the damage, and whether the damage is localised or widespread.
If you have older pipes or connections, your plumber might need one visit to resolve these problems and another visit to replace older parts. Similarly, if your plumber needs to source a specific material to match your pipes, this can result in multiple visits.
Rest assured that your plumber will always solve the immediate problem as quickly as possible.
When it Comes to Burst Pipes, Prevention Is Better Than a Cure!
Sometimes a burst pipe is completely out of your control, but in general, there are steps you can take to minimise the chance of your pipe bursting.
Here are some preventative steps you can take to keep burst pipes at bay.
If you have an older property, organise

CCTV surveillance

to check the condition of your pipes. If repairs are required, ask your plumber about

pipe relining

.

If you suspect you have a blocked drain, take action fast and clear your drains before they burst. Plumbers can complete CCTV inspections and utilise drain snakes or

high-pressure hydro jet equipment

to clear your clog!

If you have

tree roots in your drains

, a plumber can assist you in removing them. After they are removed, consider relocating or removing the offending tree.
Call your local plumber in Blackburn, Vermont, or across Melbourne and ask about preventative plumbing services!
How Much Does It Cost to Repair a Burst Pipe? 
The cost to repair a burst pipe can range from hundreds to thousands of dollars. The price will vary based on a number of factors, but the location of the burst pipe is the main one. If your burst pipe is difficult to access, more time and labour will be required, which will increase your overall costs.
The Excess Damage and Extra Costs Associated with Burst Pipes
Fixing the burst pipe itself is just the start of your financial worries. Other costs that can come alongside burst pipes include:
Replacing damaged flooring, furniture and appliances

Removing mould and cleaning affected areas

Repairing structural damage and any additional property damage caused by compromised structures, supports, and foundations
10 Steps to Take When You Discover a Burst Pipe
It's essential to act fast from the moment you discover a burst pipe. Here are 10 steps you should take.
Turn off your water supply at the mains in order to minimise the spread of water damage

Turn on all your taps and flush toilets to remove any access water

If you believe the burst pipe is an electrical hazard, turn off your power as a precaution

To ensure you get the help you need ASAP, call a 24-hour plumber with fast response times

After the plumber has done their part, you can also call an electrician if necessary

If you plan on making a claim with home or contents insurance, take photos of the damage

Remove any affected items in order of importance. Wipe down, disinfect, and leave them to dry. Do not throw out any items that will be included in an insurance claim until they're assessed.

Clean and dry the affected walls, floors, ceiling, etc.

Once all the urgent plumbing and electrical work is done, consider your options for restoring/repairing affected areas

Once your insurance claim is underway and it is safe to do so, you can throw away any fixtures, fittings, furniture, and appliances that have been damaged beyond repair
Next Step – Call a Trusted Plumber Today!
With $0 callout fees, fast response times, and 24-hour emergency services, MCN Plumbing is here to help you. We work across Melbourne's suburbs, from Epping to Rowville, Campbellfield to Lilydale and everywhere in between.
If you're dealing with a burst pipe or you want to invest in preventative plumbing services, contact our team today.