A Guide to Hot Water Repairs
March 1, 2022
Hot water is one of those small pleasures in life that we just take for granted. Whether we're turning on the shower, washing some dishes, or just rinsing off our hands, hot water is there waiting for us at the twist of a tap.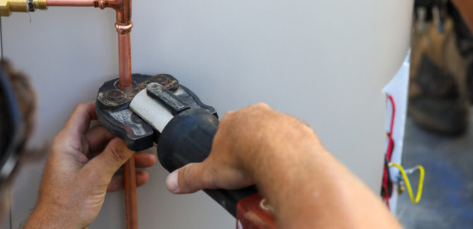 But what happens when the hot water stops running, and how do we get it back on again? And most importantly, what can you do to prevent hot water outages in the first place.
We know how frustrating hot water outages can be, which is why our Melbourne plumbers are on hand with all the answers. Read on to find out how often you should service your hot water. We'll also cover signs that you need hot water repairs and give you a closer look at the hot water maintenance process.
Need hot water repairs in Melbourne right now? Call our team for $0 callout fees and a solution to your problem!  If you need help with blocked drains in Melbourne give us a call.
How Often Should I Service My Hot Water Unit?
Servicing your hot water system is of the utmost importance if you want to avoid expensive breakdowns and unnecessary repairs. After all, we use our hot water units every day and we expect them to last for years.
The average hot water unit will last between 8 years and 12 years with proper care, and that includes servicing and maintenance at least every five years.
Hot water units that should be serviced every five years include:
solar hot water systems; and

storage hot water systems.
As well as 5-year servicing, you should lift the pressure relief valve on your storage hot water unit every 6 months. This should only take a few seconds and it's one part of the hot water service that you can do yourself! To find the lever and learn more about this process, refer to your owner's manual.
Some hot water units need to be serviced more regularly. In general, we recommend annual servicing for the following systems:
continuous flow hot water units; and

heat pump hot water systems.
If you're experiencing recurring problems with your hot water system, it might be worth having it serviced on a more regular schedule. As well as this, you should also refer to manufacturer instructions to check if your system should be serviced more regularly.
Whether you're having hot water troubles in Croydon or you're unsure about the state of your hot water system in Keysborough, a professional plumber can help you. Call a plumber if you're experiencing specific hot water issues or if you want to know when your hot water unit is due for a service.
10 Signs That You Need Hot Water Repairs
As well as regular servicing, you should also arrange water heater repairs on a needs basis. Organising hot water system repairs at the first sign of trouble can help you to avoid more expensive breakdowns and repairs in the future.
Some tell-tale signs that you need hot water repairs include:
You're experiencing unusual fluctuations in water temperature and water pressure

Your water gets warm but not hot

You're running out of hot water too quickly

You've lost all hot water at your property

Your water heater is leaking

There are puddles, moisture, or other signs of water damage around the system

You notice signs of rusting or corrosion

Strange noises are coming from the system, including rumbling sounds

Your water looks, smells, or tastes bad

Your hot water system's pressure relief valve isn't working
If you're experiencing any of the problems listed above or you have other hot water issues, call a hot water plumber in Mitcham, Kew, or wherever you are across Melbourne. A few quick repairs could be all you need to get your system back to its best!
Is It Time to Replace Your Water Heater?
If your hot water system is more than 12 years old and it regularly experiences one or more of the issues listed above, it might be time for a replacement.
While repairs may be more affordable in the short term, installing a new hot water system can solve all your problems at once! Modern hot water units are also more eco-friendly, energy-efficient, and water-efficient than older systems, meaning you could significantly lower your running costs.
How Do You Maintain a Hot Water System?
Wondering what your plumber will do during your scheduled hot water service? Whether you call a plumber in Ringwood or Kew, here are some of the steps they will take:
Checking the sacrificial anode and replacing it as necessary. This metal rod prevents rusting in your water heater until it starts rusting itself. Generally, sacrificial anodes last around 5 years.

If you have a storage system, the relief valve will also be checked closely and replaced if necessary. While you can check and lift the relief valve yourself, further servicing is best left for the pros!

Your plumber will also perform gas pressure checks and burner checks on gas systems

The thermostat will also get looked at to ensure it is accurate and that your hot water is hot enough (and not too hot!)

Your plumber will also perform visual inspections, looking for things such as leaks or signs of rust

The system will be professionally cleaned to keep it operating at its best

All other parts will be checked and repaired or replaced as necessary.
While you should never attempt to service your hot water system yourself, there are a few small steps you can take to care for your water heater. These include:
Lifting the pressure relief valve:

As mentioned, you can lift your system's pressure relief valve every 6 months. Doing this will expel extremely hot water, so make sure you wear adequate protective clothing and stand away from the system. If the lever for the pressure relief valve doesn't lift, do not force it. Instead, call a plumber for professional servicing and repairs.

Turning off your system:

If you have a storage water heater and you're going away for a few weeks or more, you can switch off your hot water system. This will save you some money and give your system a rest, helping to maintain it in the long term!

Visual inspections:

Just like your plumber, you can also inspect your hot water system. Look for signs of leaking, cracking, corrosion or rust every few months. For your own safety, make sure you're only examining the system on the surface.

Gardening:

Most water heaters are located outdoors. When working around your hot water system, be careful not to damage the system or surrounding pipes with your lawnmower or other tools. You should also make sure trees or plants aren't growing too close to your system.
If you're experiencing issues with your hot water system, call a plumber in Ashwood, Doncaster, or near you. Trying to maintain or repair a water heater by yourself can be a costly and dangerous mistake, so if it's anything more than the points mentioned above, call a plumber for professional assistance. 
What Are Some of the Tools You Need for Hot Water Repairs?
Your plumber will use a range of different tools to service or repair your hot water system. You might already have some of these in your toolbox, while there are others you might not even recognise. The tools your plumber uses will depend on whether you have a gas or electric-based system, as well as what sort of repairs your system needs.
Some of the tools and supplies used for hot water repairs and maintenance include:
Pipe wrenches

Plumber's tape

Pliers

Spanners

Cordless drills

Tools for cutting copper tube

Diagnostic tools such as Multimeters and gas flue analysers
Need a plumber in Bentleigh or Glen Waverley? When you partner with MCN Plumbing, you can be sure that our team will use all the best tools and parts for the job. We are fully trained and qualified to take care of your hot water system!
Conclusion – If You Need Hot Water Repairs or Maintenance, Call a Plumber Today
There are many steps you can take to care for your hot water system, from visual inspections to relieving the pressure valve to careful and considered gardening. Investing in professional hot water maintenance at the right time is also an essential factor in taking care of your hot water unit.
When it comes to servicing and repairs, you should always leave it to the professionals. Call your local plumber in Mount Waverley, Nunawading or near you, and they will take care of your hot water system on your behalf. They have the tools, the training, and the accreditation to service and repair your system safely and effectively. 
Are you concerned about your hot water unit? Need a hot water service in Bayswater or across Melbourne? At MCN Plumbing, our service areas include locations as far north as Epping, as far south as Rowville, and as far east as Lilydale. With more than 30 years of experience and a wide service area, we are here to help you.